Swarovski Lovlots 2013 Zodiac 12 Piece Set Very Rare Bnib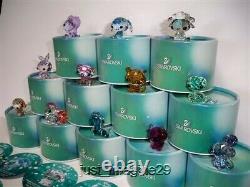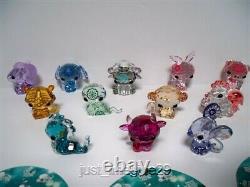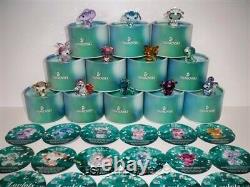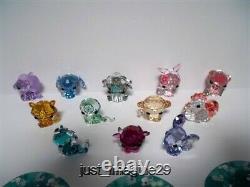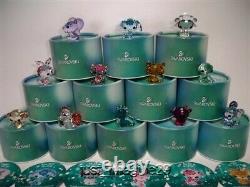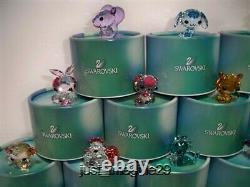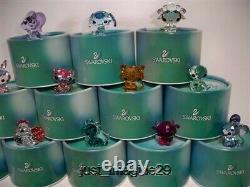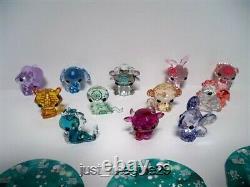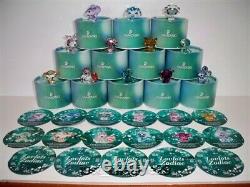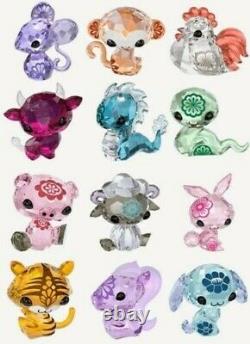 C O L L E C T I B L E S. VERY RARE NEW IN BOXES. These items are all Brand New and come in their Original Swarovski Lovlots Boxes, with a Zodiac Pamphlet with color pictures and a description of the personality of each of these adorable zodiac characters.
These very colorful and irresistibly cute Lovlots Zodiac characters were designed by a team of Artists and were all released in 2013 & 2014, and are now all retired and becoming increasingly rare, hard to find, and very difficult acquire. Each Zodiac is described below as shown in our pictures from top left to bottom right. Uma the Horse is loved for her cheerful, warm, and talkative personality. This little Zodiac in Violet crystal is decorated with a playful floral print on the head and body.
Admire its' cute mane and tail in Violet frosted crystal. Size: 1 5/16" x 1 5/16". Being loyal, honest, and reliable according to the Chinese legends, Wan Wan the Dog is crafted in Aquamarine crystal with a floral print on his head and body. Make him your personal lucky charm.
Size: 1 3/8" x 1 3/16". Generosity, creativity, and luck characterize Me Me the Sheep, an Asian-inspired Zodiac.
A great gift, this treasure in Black Diamond and clear crystal is beautifully adorned with a floral print on its head. Size: 1 5/16" x 1 3/8". Considered as gracious, well-mannered, and sensitive, Mimi the Rabbit has an important symbolic meaning. He is made in Rosaline crystal and the darker floral print on his head and right leg completes the outfit. Ize: 1 1/16" x 1 5/8". Renowned for being courageous, popular, and charitable, Bu Bu the Pig has a great story to tell. The symbolic character shimmers in Tender Pink crystal with a cute floral print on his body and head. Size: 1 1/8" x 1 3/16". Sparkling in Topaz crystal with printed stripes on his head and body, this symbolic creation represents sincerity, generosity, and respect, and will bring a smile to everybodys face. Size: 1 1/8" x 1 1/4". Standing for grace and wisdom, the snake sparkles in Chrysolite crystal. Cute prints on the head and front of the body make this character a playful gift or treat for yourself. Ize: 1 3/16" x 1 3/8" x 3/4. So cute, this character expresses charm, self-confidence, and flexibility. The Light Peach body, Jet crystal eyes, and floral prints suit this monkey perfectly and make him an appreciated gift or collectible. Ize: 1 3/16" x 1 3/8" x 13/16. The radiant Clear crystal body of this rooster harmonizes perfectly with the beak in Vintage Rose and details in Padparadscha crystal.
It features innovative prints on both wings and symbolizes decisiveness, wit, and dignity. Ize: 1 5/16" x 1 9/16" x 1. Known for being strong, dynamic, and energetic, this dragon can become your talisman.
It shines in Indicolite crystal with a Light Azore crystal tail and scales, Clear crystal details and a floral print. Ize: 1 5/16" x 1 5/16" x 11/16. Mo Mo the Ox: I. This Zodiac character has a strong symbolic meaning - dependable, calm, and brave. It is crafted in Fuchsia crystal, with a frosted tail and horns, and eyes in Jet crystal. Prints on the body and head decorate this playful gift and lucky charm. Ize: 1 5/16" x 1 3/8" x 13/16. Considered to be charming and innovative, the zodiac rat sparkles in Provence Lavender crystal with Jet crystal eyes. Admire the playful prints on its' body and ear. Ize: 15/16" x 1 3/16" x 1 1/16. Not suitable for children under 15. VISIT OUR STORE FOR OTHER GREAT SWAROVSKI COLLECTIBLES. THANK YOU FOR YOUR INTEREST AND PLEASE VISIT OUR STORE FOR OTHER GREAT ITEMS. Powered by SixBit's eCommerce Solution.
The item "SWAROVSKI LOVLOTS 2013 ZODIAC 12 PIECE SET VERY RARE BNIB" is in sale since Monday, September 20, 2021. This item is in the category "Collectibles\Decorative Collectibles\Sculptures & Figurines".
The seller is "just_imagine29" and is located in Midlothian, Texas. This item can be shipped worldwide.
Material: Swarovski Crystal
Theme: Collectable
Type: Figurine
Brand: Swarovski