Rare! 15 Piece Set-100% Natural Genuine/authentic Azeztulite Crystal Stone Set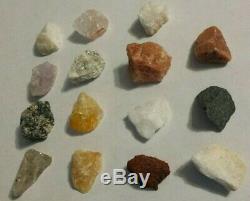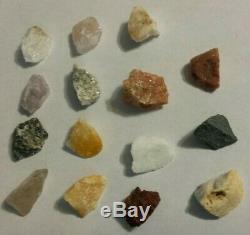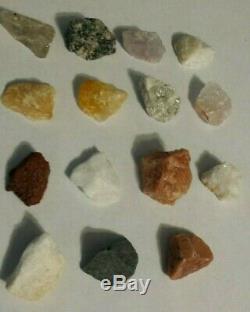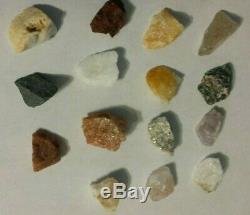 15 PIECE SET & RARE!!! 100% NATURAL GENUINE AUTHENTIC AZEZTULITE CRYSTAL STONE MINERAL SET. ALL STONES ARE ROUGH EXCEPT FOR THE TUMBLED GOLDEN AZEZTULITE.
EACH STONE COMES WITH AN AUTHENTICITY CARD. THIS SET INCLUDES: HIMALAYA GOLD AZEZTULITE, AMAZEZ, GOLDEN AURA AZEZTULITE, PINK AZEZTULITE AKA RHODAZEZ, SATYALOKA ROSE AZEZTULITE, SATYALOKA YELLOW AZEZTULITE, SATYALOKA CLEAR AZEZTULITE, SANDA ROSA AZEZTULITE, ORIGINAL AZEZTULITE, PINK FIRE AZEZTULITE, RED FIRE AZEZTULITE, HONEY & CREAM AZEZTULITE, SAURALITE AZEZTULITE, BLACK TOURMALINE AZEZTULITE AND BLACK AZEZTULITE - 141.5 g total.
You will receive all the stones & cards in the pictures above. WOW WOW WOW what a beautiful set!!
Spiritual meaning for all the Azeztulite stones listed below. SAURALITE : Realization of Divine purpose, marriage of Heaven and Earth. PINK "rhodazez" : Heart awareness, emotional healing, serenity, compassion. Divine Love, Joy, intimacy, sweetness.
SATYALOKA YELLOW : Enlightenment, Ascension, acceleration of ones evolution. Healing, inner harmony, purification, attunement with the soul of the Earth.
Creative manifestation, co-creating with Sophia, kindling the Great Central Sun in the heart. AMAZEZ: Spiritual Power, Purification, Healing. Light within Darkness, complete transformation, protection, infusion of light. Receiving the Nameless Light, link with the Great Central Sun. PINK FIRE : Inner Fire of Divine Love, High Heart activation, passionate self-identification with love, emotional self-healing.
Life Force, enthusiasm, vitality, power, passion, sexuality, intelligence, visionary experience, longevity. GOLDEN : Attunement to the Gold-White Light, Light Body awakening, time travel, kindling the Sun of the Heart. Embodies a combination that I have dreamed of for yearsthe powerful, expansive, heavenly energies of pure White Azeztulite, balanced, purified, grounded and protected by the strong, benevolent Earth-currents of Black Tourmaline.
All Stones/Crystals are Reiki Charged & Full Moon Cleansed. Thank you so much for taking time to look at what I have. Hope you save my store and come back and visit again, I add new items all the time! If you have any questions do not hesitate to send me a message. It is important to stay grounded & keep your energy clear!
Note: Healing crystal meanings are spiritual supports to healing and are not prescriptions or healthcare information. Since all the stones and crystals come from mother earth, they may have natural cracks, geode, or vugs. Cleansing Your Crystals and Stones.
Your crystal's will work best when they are cleared and cleansed. Here are some recommended ways to cleanse your healing crystals. Place your crystal on the soil or branches of a hebeforealthy houseplant for 24 hours.
Place your crystal outside under the sun or full moon for at least 4 hours. Steadily hold your crystal in the smoke of a burning Sage stick or Palo Santo stick. Lay your crystal on a piece of Selenite or Quartz Crystal for at least 6 hours.
15 PIECE SET-100% NATURAL GENUINE/AUTHENTIC AZEZTULITE CRYSTAL STONE SET" is in sale since Thursday, April 25, 2019. This item is in the category "Collectibles\Rocks, Fossils & Minerals\Crystals & Mineral Specimens\Crystals".that" and is located in Yukon, Oklahoma.
This item can be shipped to United States.