Lapidary Hobby 1.11 KG Piece of Winton Fairy Opal Rough, Specimen Collectable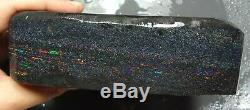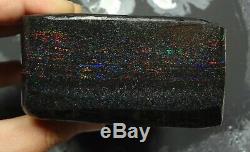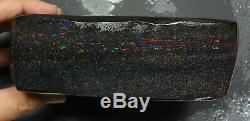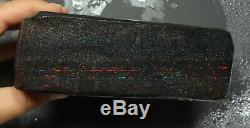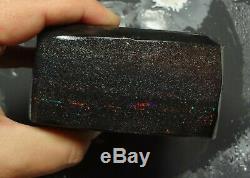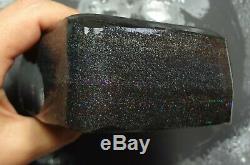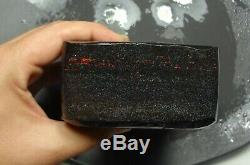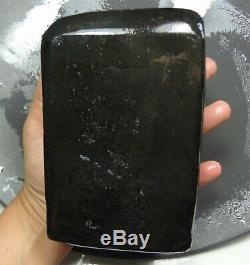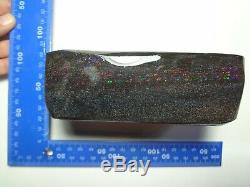 Lovely Large Piece of treated Winton fairy opal rough. Stone requires cutting and polishing to finish. Pictures were taken while the stones were wet to show potential. Nice stone with beautiful multi colour opal matrix with a predominance of red. Good for slabbing down for numerous stones. Stone is not finished, it requires further cutting and polishing. Please note that as it is porous material the end polish result will yield a matte finish. To get a mirror finish, resin would achieve this. Stone has been treated to blacken it, please see details below. May need re-treatment after the stone is cut and polished if desired as the treatment may only be on the surface of the rock and not right through. Please see details below about treatment. Photos were taken under white desk lamp light. The stone was wet when the pictures were taken in order to show its potential, it will not look this shiny or bright coloured when you receive it, until you wet it again or polish it up.
Pictures have been enlarged to show detail. This unfortunately cannot be avoided.
Origin: Winton opal fields, Queensland. Carat weight total: 5550 carats or 1.11 Kilograms. Stone Size approx: 14 x 8.7 x 4.4 cm at longest points.
Fairy opal is basically a sandstone base rock impregnated with tiny pieces of precious opal. Because the sandstone is very pale it is often difficult to see the play of opal colour in the stone and hence a method of darkening the sandstone background was developed so the colour of the opal could be seen.
These stones have been treated or'cooked' in order to darken the base to bring forth the beautiful opal colour. The treatment does not change the opal or stone in any way other than darkening it to give it an enhanced colour flash. The method used is to cook the stones is heating in oil.
The oil penetrates the pores of the sandstone and the heat burns the oil then carbonises it thus darkening the stone. Small Satchel/Box up to 5kg. Medium Satchel/Box up to 5kg. Large Satchel/Box up to 5kg. There is no limit to how many items you can combine within the weight limits. Please keep in mind that items need to be packaged and wrapped for safe travels and this adds weight. All parcels are sent with tracking numbers. Heavier parcels will have a higher cost. Please find and like us on Facebook. The item "Lapidary Hobby 1.11 KG Piece of Winton Fairy Opal Rough, Specimen Collectable" is in sale since Tuesday, November 19, 2019. This item is in the category "Collectables\Rocks, Fossils, Minerals\Crystals". The seller is "123hartanto" and is located in Brisbane, QLD. This item can be shipped worldwide.
Material: Fairy Opal
Product Type: Opal
Region: Queensland