Fine Ground Cinnabar Crystal Tiny pieces 0.5 KG Lot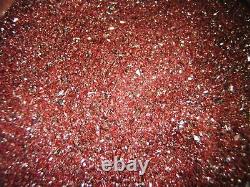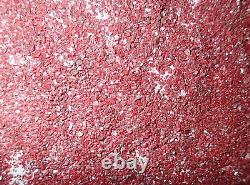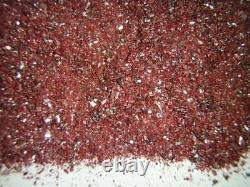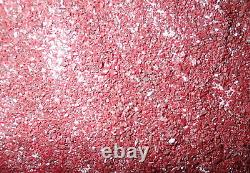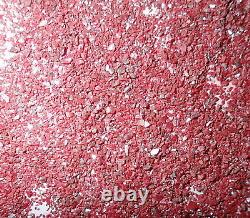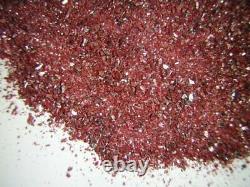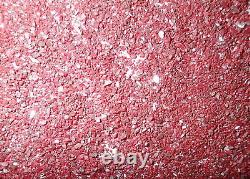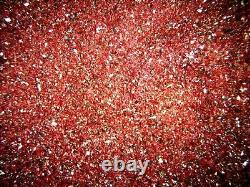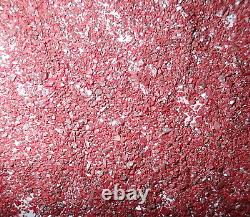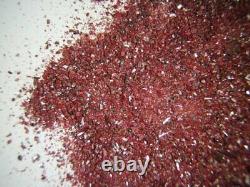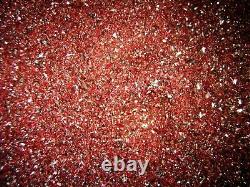 Grounded Cinnabar crystals - Tiny pieces. 500 g Lot (2,500 carat) = 1.1 pound (17.6 ounce). Cinnabar crystal specimen from Da Dong Ma village in Cha Tien Town of Phoenix County, Hunan Province of China (central China). Size of crystals: powder to tiny pieces. Cinnabar is the bright scarlet to brick-red form. It is the historic source for the brilliant red or scarlet pigment termed vermilion and associated red pigments. Fine Ground Cinnabar Crystal Tiny pieces 0.5 KG Lot. 500 g Lot (2,500 carat). = 1.1 pound (17.6 ounce). Cinnabar generally occurs as a vein-filling mineral associated with recent volcanic activity and alkaline hot springs. The mineral resembles quartz in symmetry and in its exhibiting birefringence. Cinnabar has a mean refractive index near 3.2, a hardness between 2.0 and 2.5, and a specific gravity of approximately 8.1. The color and properties derive from a structure that is a hexagonal crystalline lattice belonging to the trigonal crystal system, crystals that sometimes exhibit twinning. Cinnabar has been used for its color since antiquity in the Near East, including as a rouge-type cosmetic, in the New World since the Olmec culture, and in China for writing on Oracle bones as early as the Zhou dynasty. Later in the Song dynasty it was used in coloring lacquerware. Cinnabar is generally found in a massive, granular or earthy form and is bright scarlet to brick-red in color, though it occasionally occurs in crystals with a nonmetallic adamantine luster. The hardness of cinnabar is 2.0-2.5 on the Mohs scale, and its specific gravity 8.1. These cinnabar minerals are mined from Hon Shui Don of Cha Tian Town of Phoenix County in Hunnan province of China. We send the goods to USA, Canada, UK, Australia, New Zealand, EU countries and some other European and Asian countries by E-express, a kind of fast postal service by Hong Kong Post. From all around the world. Star Sapphire - other colors. Stone, mineral, fossil box set. Fine Ground Cinnabar Crystal Tiny pieces 40 gram Lot. Black Indochinite Tektite Stone 10 pieces Plastic Box Set Natural Specimen Kit. Bat Skeleton GREATER BAMBOO BAT in Clear Block Education Real Animal Specimen.
10 Mohs Scale Stone Set clear plastic box Learning Real Specimen Kit. 7 Seven Bee Wasp & Hornet Collection Set include Murder Hornet Insect Specimen. Rare Very Large Black Indochinite Tektite Stone 118.8 gram 115x48x20 mm.
Plant Leaf Fossil on Mother Rock from China 102x80x7 mm 115 gram. Insect Necklace Big-head Ant Specimen with Lucky Red Seed SD07 Clear.
Natural Prehnite Rough Stone from Namibia 145.2 gram 67x50x31 mm. Turquoise Substitute Dyed Howlite rough Stone 85.2 gram pieces 48x41x33 mm. The item "Fine Ground Cinnabar Crystal Tiny pieces 0.5 KG Lot" is in sale since Monday, July 29, 2019. This item is in the category "Collectibles\Rocks, Fossils & Minerals\Crystals & Mineral Specimens\Display Specimens". The seller is "selltotheworld" and is located in Hong Kong. This item can be shipped worldwide.
Country of Manufacture: China
Type: Cinnabar crystal
Origin: China
Size: Tiny pieces to powder
Modified Item: No