3.5 Phantom Quartz Rock Crystal Carved Crystal Dragon Handle piece, Healing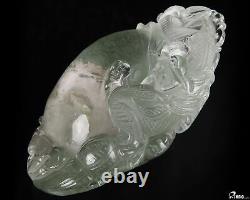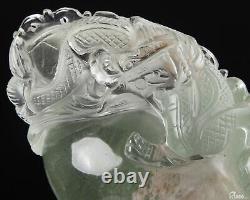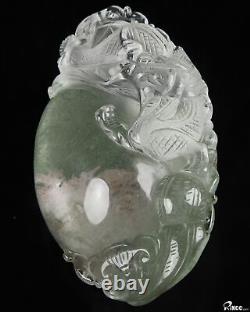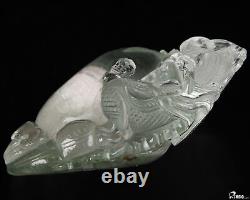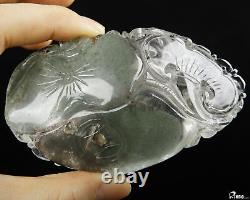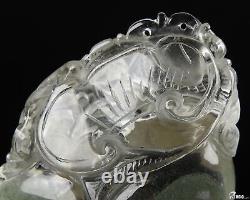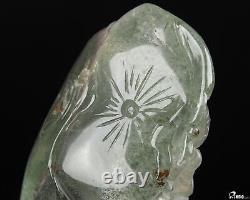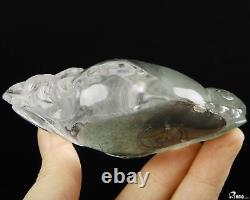 Rikoo, Offers Everything Amazing in Gemstones & Crystals. Specializing in the unique, original and amazing works. Stocked and worked with nearly all well-known gemstones. Started Skullis, which is currently the leader in crystal skulls world.
Started BestPietersite, which owns over 80% of high end pietersite. Offers the largest selection of crystal & gemstone spheres. 3.5 Phantom Quartz Rock Crystal Carved Crystal Dragon Handle piece, Healing.
2.0"x1.5"x3.5 (52x38x89 mm). Phantom Crystals: are crystals that at one point finished their growth cycle, then began growing again later.
When looking inside these crystals, you can see a striation that indicates where the original tip was. For someone drawn to this type of stone, a need for growth is indicated. Phantom quartz is an exotic kind of natural quartz. The inclusions came into being from volcanic mud. It's very beautiful and appealing.
Don't want to wait? Please place orders early if you have a deadline.
Thank you for your patience and understanding. Rikoo, offers everything amazing in gemstones & crystals. Rikoo was established in January, 2004. Now having stocked and worked nearly all of well-known fancy gemstones and crystals in the world, Rikoo is prestigious for its versatility and creativity in designing and creatinging amazing works that totally or mainly made from gemstones and crystals.
Rikoo offers the largest selection of gemstone and crystal spheres. Rikoo started Skullis in April, 2009. Within 1 year upon its birth, Skullis reshaped the crystal skulls world by offering far finer and more variety of designs of crystal skulls with considerable more types of crystals and gemstones. Skullis is now the leader in crystal skulls world. In January 2010, National Geographic Channel visited Skullis and filmed Skullis for 3 days on end.
They were making a documentary titled: The Crystal Skulls: the Truth Behind, which will be broadcasted in summer in 2011 at NGC. Rikoo started BestPietersite in July, 2010. BestPietersite owns over 80% amount of high-end Pietersite in the world. There are over 40 artists in our studios. Some of them are masters in carving and sculpturing.
What we love most to do is creating and offering something that other organizations or people are hard or incapable to do. Up to know, Rikoo and Skullis have created hundreds of new designs with gemstones and crystals in sculptures, carvings, jewelry, home decoration pieces and more.
You can find a great variety of awesome stuffs at Rikoo. You will see more and more in the coming days. If you want unique and gorgeous gemstone or crystal pieces/works, go to Rikoo, Skullis or BestPietersite and you will be surprised by what you find. For more details, please visit our About Us or Me page. Therefore, it creates a loss for customers to choose Standard(Speedpak Standard) on these occasions (which is more expensive and less speedy). So we've canceled this service because Skullis always tries its best to provide consideration and convenience to customers. Please visit our About Me page to find helpful information. Return is accepted within 14 days after thebuyer's receiving the item.